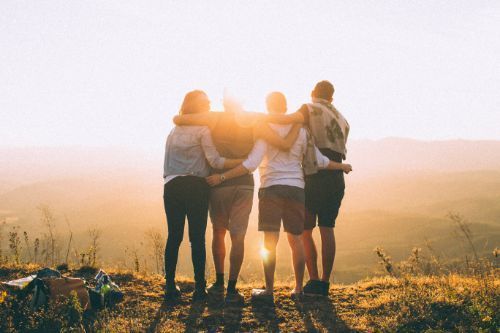 Simply put, life can be stressful and hard. Every day can't be a winning day, but there are things you can actively do to try to make somebody's day brighter. The good news—these tasks are simple and take virtually no time at all! Check out these 10 ways you can make the world a better place by being a bright light in the lives of friends, family, loved ones and even strangers.
 
1. Lend an Ear
Listen. When an individual feels heard and understood, it's guaranteed to make them feel better than if nobody is taking the time to understand.
 
2. Do a Chore
If you're able, do a chore for your neighbors or someone in need. This could range from delivering meals to someone unable to go to the grocery store, mowing the lawn or virtually any errand necessary.
 
3. Send a Surprise
Think of care packages, flowers or baked goods. Thanks to modern-day delivery, the possibilities to send a surprise to somebody you love are endless! Whatever you do, do it with love.
 
4. Pay it Forward
Draw inspiration from an act of kindness that made your day. Take that feeling, and do that same thing for somebody else! If it made you smile, it's likely to do the same for someone else.
 
5. Mail a Letter
Good old-fashioned letters are always a fun surprise to receive in the mailbox. Make a loved one's day by sending them a card or letter for no reason other than to say you're thinking of them.
 
6. Volunteer Your Time
An easy way to make someone's day is to volunteer your time for an organization in need! Nonprofit organizations exist to make the world a better place, and you could have a huge impact for those in need through volunteering.
 
7. Pick Up the Tab
Whether you sneakily grab the bill at your next outing or pay for the person behind you in the drive-thru, it's always a nice feeling to be unexpectedly treated.
 
8. Tell Them How You Feel
Life is short. Tell the people you love how you feel early and often! This is your reminder to tell your family and friends just how much they mean to you.
 
9. Give a Compliment
Everybody enjoys an unexpected compliment that comes from the heart. Be genuine and compliment your coworker, friend or even a complete stranger. Put some pep into somebody else's step by paying them a compliment.
 
10. Pick Up the Phone
Near or far, dialing up a loved one just to chat can change their entire day. Think of somebody you miss or who might need a pick-me-up and give them a call. 
These ideas are simple ways you can completely change the trajectory of somebody else's day! Use the power you have to make the world a brighter, better place, and you're sure to also experience some of that kindness. Together, we have the power to change the world!