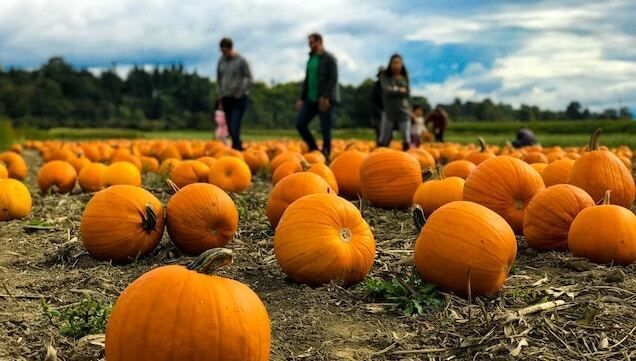 It's that time of year again: the time when leaves turn bright colors and start to crunch beneath your feet, the air gets brisk and fresh and Mother Nature prepares for the cold coming months ahead. It's fall, and it's the most colorful season of the year!
Fall is a fun and joyous time, full of pumpkins and spooky nights and delicious food. If you're looking to celebrate this multicolor season in style with your family, check out these fun fall adventures you need to go on this year.
 Apple Picking
Get festive this fall and go on an apple picking adventure through an orchard. Find some yummy red apples, golden delicious or granny smiths for a variety of flavors.
 
Corn Maze
Sometimes the best way to come together is to get lost together. This fall, take your family on an unforgettable maze adventure through a bright and crisp cornfield.
 
Football
Ah, the most wonderful time of the year… football season! Get together to watch your favorite teams battle it out, or go for a friendly game of touch in the backyard.
 
Hiking
Hiking is a great way to get some exercise while enjoying the changing colors of Mother Nature. Don't live near any mountains or hikeable areas? That's okay! Walks or bike rides are great this time of year too.
 
Hayride
Hayrack rides are fun for all ages. Check out any local orchards, vineyards or attractions which offer hayrack rides for your family to enjoy together.
 
Leaf Gathering
The leaves are changing, and are more beautiful now than ever! Spend an afternoon gathering leaves as a family, then get creative by trying out some new crafts or decorating with them.
 
Picnic
Everybody loves a delicious picnic. Pack a lunch for you and your family, then go for a walk in the park to enjoy a picnic together. It's the best of both worlds: food and nature.
 
Haunted House
What would fall be without the spooky goodness of haunted houses? Check locally for a real thriller, or a more laid back kid-friendly version. Either way, the ghosts will be flying!
 
Baking
One of the greatest parts of fall is the food. Get your family in the spirit of things by trying some new baking recipes. Because who doesn't love pie.
 
Pumpkin Carving
And of course, pumpkin carving. Pumpkins are great for any time, whether they're sitting on your doorstep or for eating pumpkin seeds. Pumpkin carving is family-friendly and fun for all.
This fall, enjoy the colorful changes of Mother Nature by embarking on new adventures with your family. Whether it's going for a drive through the trees or taking a walk along a trail, get outside and soak up all the colors the outdoors has to offer. Because when you're having fun, your family is making memories.