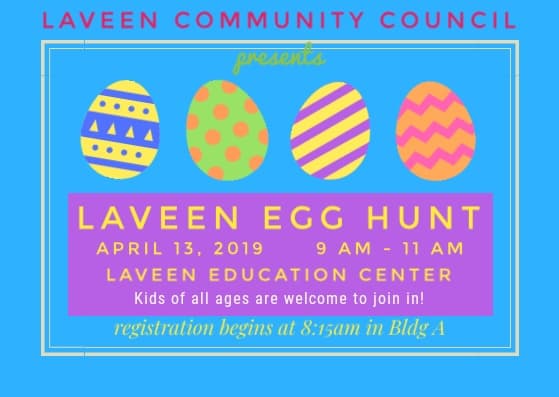 Join us for the 20th Annual Laveen Egg Hunt
Please join us for the 20th Annual Laveen Egg Hunt on Saturday April 13, 2019 from 9am-11am. This year's festivities will be held at the Laveen Education Center on the lawn in front of Historic Bldg A at 5001 W Dobbins Rd.
Registration will begin at 8:15am in Bldg A.
Stay tuned for more information, or if you have any questions, please contact the Egg Hunt Committee Chair, Cinthia Estela at council@laveen.org
Egg Hunt Times:
Toddlers - Pre-school 9:00 –9:30 am
Ages 5 – 1st Grade 9:40 –10:10 am
Grades 2 & Grade 3 10:15–10:45 am
All Children participating in the Egg Hunt will have to Register Registration begins at 8:15 am in Bldg A.
CALLING ALL VOLUNTEERS
If you are interested in helping out with the Egg Hunt, we have several Volunteer Opportunities. We need help with Egg Stuffing, Setup, Registration, Parking, Lost & Found, Field Attendant & Clean Up.
Refuse To Do Nothing & Volunteer. An hour or two of your time will make a difference in community, will bring joy to children's faces and fosters Laveens Spirit of Community. Sign up today at Volunteer Sign Up